fantasy casting
June 24th, 2009
The film version of If I Stay is still a way's off. Right now, the screenplay is being written by Shauna Cross. And after that, well, things can move swiftly or they can stall. I try to be Zen about these things of which I have no control. Which is so not me, but I'm trying.
But I've been getting a lot of emails lately from fans with very strong opinions about who should or should not play what roles in the movie. This came up again recently after Catherine Hardwicke made a casual, offhand remark about how she'd like to work with Kristen Stewart and Robert Pattison (or KStew and RPatt as they're apparently now known) again. In the hepped up world of the blogosphere, this turned into speculation of which of Catherine's many upcoming films they might star in? Could they be reunited as Mia and Adam?
Doubt it. KStewRPatt are so integrally tied to the characters of Bella and Edward, so wonderfully tied to those characters, because they were so well cast in those roles. For that exact reason, that pairing wouldn't work in other films.
But people ask me if I've thought of other actors who might be in the movie version. I hadn't before this all started. I had my own versions of Mia and Adam and everyone else in my head from writing them, but since then, I've had a chance to ponder my own casting choices based on my VERY LIMITED knowledge of actors. I have absolutely nothing to do with the casting process, and  none of these people would likely ever get cast and mostly I'd want them because I love them in other stuff or because they look like how the characters look in my mind. But hey, it's fun to play casting director, right. So, without further ado.
My choice for Dad is: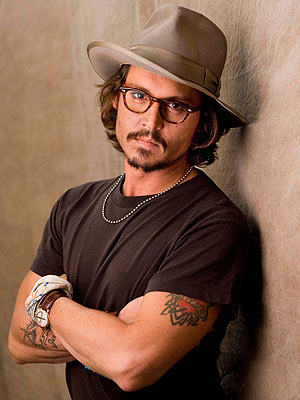 Seriously. Could anyone be more perfect? Can't you see Johnny Depp as the rocker dad and as the bowtie dad? And as a dad to a daughter himself, it would be even dreamier. Didn't he play Captain Jack for his kid? Well this would be a role for his teenage kid (and for Vannesa Paradis. If I Stay is popular in France!) Then again, as a $20 million dollar A-lister, I can't really see JD taking a supporting role in what will likely be a not huge budget movie. But a girl can dream.
Mom:
I've been watching a lot of Battlestar Galactica lately and I've kind of become obsessed with Katee Sackhoff, who plays the badass pilot (and apparently world savior) Starbuck. She is about ten years too young to play Mom at the age she is during the present day of the book/movie, but there is something about this actress that I love. She can portray that perfect mix of toughness and vulnerability and a little bit of white trashiness. And she's got an awesomely strong bod (but not too thin). Added bonus, according to IMDB, she's from Portland! And she looks like what Mom looks like in my head, except with longer hair. But she's hardly been in any movies, so she'd be a longshot.
Adam:
My Adam choice hails from another TV show I'm obsessed with even though the character Zach Gilford plays on Friday Night Lights is pretty different from Adam. The mumbling, stumbling down-on-his-luck Matt Saracen lacks the confidence and swagger and indie-rock sensibility of Adam. But both of these guys have a deep sense of integrity and cheekbones to cut butter. Imagine Saracen without the mumbling twang, with tight skinny jeans and a guitar slung over his hips, a little tattoo peeking out of his biceps and  a bit more sexual charisma. Are you starting to feel Adam?
Mia
Strangely, Mia is the one I have the hardest time fantasy casting. Maybe that's because before I ever saw Twilight, I saw Kristen Stewart in Into The Wild and fell in love with her and thought she actually looked like Mia as I'd imagined her, and once I saw her in Twilight, fell head over heels for her as much as Edward did. And I think she's a fantastic actress, but, for the next five years anyhow, she's Bella—at least in any broody love story set in the Pacific Northwest. Don't get me wrong, if she wound up as Mia (though not opposite RPatt) I would be happy, but I just don't see it happening. So who else? Dakota Fanning? Kat Denning? I don't know. I have a feeling it'll be someone off the radar, someone, I hope, we'll all fall in love with as much as Adam falls in love with Mia.